Scott Fagan: the psych-folk singer once tipped to be bigger than Elvis
He had talent, looks and ambition, but somehow success eluded him. Fifty years on, Fagan's remarkable debut album is being rereleased and fame finally beckons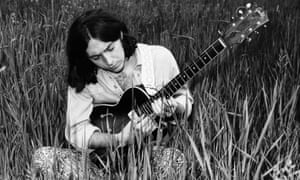 "More than a few times I've wondered if I'm absolutely loco, or if I really have something of value to give." At the other end of the line, Scott Fagan's voice falls quiet. "At my lowest place, I would go into the library at UCLA and look up 'Jasper Johns' and 'Scott Fagan Record'. It meant a lot to me."
Fagan's story is one of extraordinary fortune and disappointment, a tale that takes in abject poverty in the US Virgin Islands, the height of the Greenwich Village folk scene, love, alcoholism,Jasper Johns, the Magnetic Fields and some of the biggest names in music. It is a story that encapsulates the great near-miss of a musical career, and now, somewhat late in the day, the possible glimmer of success. "Forget Rodriguez, forget Searching for Sugar Man," says Sharyn Felder, daughter of the late Doc Pomus, the legendary songwriter who signed Fagan in 1964. "Scott was so much more. He was cut from a different cloth."
Fagan was born in the US, but in his early childhood his mother, accompanied by her two young children, her twin sister, and her boyfriend, moved to the island of Saint Thomas in the Caribbean. "It was fantastic and beautiful in every way," says Fagan, "the air, the scenery, the people, the colours; and my people were artistic and artsy and our lives were full of music and dancing, painting and sculpture. It was magic."
The idyll was short-lived. The boyfriend and the twin sister both returned to the US, and Fagan's mother fell into "a series of unfortunate relationships", and began drinking heavily. "And that," says Fagan gently, "brought more and more chaos into all of our lives."
There were others worse off, of course – he recalls watching young children hunting through bins for food. "But all of it allowed a perspective … even then I remember thinking: 'Man, you're going to remember this, you're going to write about this, you've got to tell the world about these things that you're seeing.' I would try to teach myself to write about it so I could sing about it."
In the mid-60s, Fagan could have wanted no greater songwriting tutors than Doc Pomus and Mort Shuman, the duo behind a raft of hits including the Drifters' Save the Last Dance for Me and Elvis Presley's Viva Las Vegas. So, in 1964, he left Saint Thomas and headed for New York City to find them. He located Pomus at his office in the Forrest hotel, within spitting distance of the Brill Building, and persuaded him to listen to him sing. "Within 10 minutes of hearing Scott sing, he signed him," says Felder. "I think my father saw in Scott something incredibly authentic – a tremendous raw talent that I don't think he had ever seen before, in a way. His voice was just gorgeous, and he had a fearlessness, just to show up in New York at my father's door. And," she adds, "he was very good looking."
This combination of talent, voice, looks and ambition struck Pomus and Shuman as something potent, and his stardom as surely inevitable. Fagan took up residence at the Forrest hotel and the three began working together – cowriting tunes such as I'm Gonna Cry Til My Tears Run Dry (a hit for Irma Thomas, and later Linda Rondstadt) and recording Fagan's own demos.
Pomus and Shuman were not the only ones convinced of Fagan's surefire success at that time. One night at the Cafe a Go-Go on Bleecker Street, the renowned manager Herb Gart was in the audience to watch Richie Havens. He arrived early enough to catch Fagan, the support act, and was immediately captivated.
"I've represented many artists, from Don McLean to Buffy Sainte-Marie," says Gart, "almost all of whom were exceptional. And Scott immediately impressed me as being one of those people. His charisma was so great – you couldn't take your eyes off him. He was just magnetic. He'd sing a sad song and run the audience dry."
Gart was so struck by this young performer that he went up to him as soon as he came off stage. "And you know it's really interesting," he remembers, "as a manager I tended to be careful not to exaggerate, to say: 'There's no guarantees.'" But that night, Gart felt sure enough to make a guarantee: "Herb's line to me," Fagan recalls with a smile, "was: 'Sign with me, Scotty, in six months you'll be bigger than Presley.'"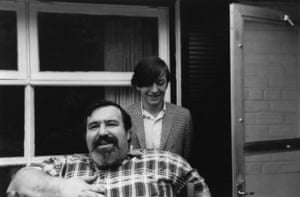 Fagan was delighted, of course, but more than anything he was ready to knuckle down. "I knew that we were going to be moving into focused hard work," he explains. "And I knew that hard work was why I was there in the States." His younger brothers had, by this time, been taken into foster care and his mother was now homeless and an alcoholic in Florida. "And my job," he says, "was to make hit records and rescue them. My job was to change the world with music."
The songs that would become his debut album, South Atlantic Blues, were begun in 1964 and written over the next three years. They made for a remarkable, adventurous and quite irresistible collection. By turns psych-folk, pop, jazz and R&B, with persistent strains of calypso and steel drums, they build a song cycle that tells of the particular joys and hopelessness of island life, its tragedies and disappointments, a yearning for better, and a great heartfelt longing for a sweetheart named Patricia. He didn't make it, though. "There's a few reasons," as Gart puts it. "None of which were really good reasons."
Fagan had recorded for Columbia and Bert Berns' Bang Records and held talks with Apple, which was considering his album as its first non-Beatles record. Instead, it chose James Taylor. He was championed by Jerry Schoenbaum, founder of Verve Forecast, who was then poised to take a new role at the Atlantic subsidiary Atco, and so Fagan signed to Atco. Unfortunately, Schoenbaum's own contract with Atco ran aground. "So we were left at Atco," Gart says, "with nobody caring."
Still, somehow, Fagan remained close enough to fame to feel the catch of it. He was working as a staff writer at the publisher Screen Gems when he got a call from a man who said his friend was an artist so passionate about Fagan's music that he had created an artwork inspired by it. He invited Fagan to the opening, and Fagan, baffled but raised always to be polite, agreed to attend. "We get in a taxi and the taxi brings us to the Museum of Modern Art, and we go in and there is my record on the wall with every light in the city on it." The artist was Jasper Johns, and the work, a series of three lithographs, was named simply Scott Fagan Record.
As the years passed, Fagan made a new life for himself, not entirely removed from his old one: he enrolled at UCLA, and, afterwards, still craving music, still wanting to change the world, set up a non-profit organisation to help musicians find treatment for alcoholism. His philosophy throughout, he says, has been simple: "Do your work, and when you're singing, sing for real, and when you're writing, write for real."
After a son with Patricia, he had three more children, including twins, by two different women. One day he received a telephone call from the mother of his twins. "She said that her friend was listening to a radio show called Fresh Air and there was a young man, a musician named Stephin Merritt, on there claiming he was my son." Fagan immediately contacted Fresh Air, who put him in touch with Merritt's manager.
"It was in the late 70s that I first found out about Scott Fagan records in the vast catalogue called Records in Print," says Merritt – whose mother had a fling with Fagan in Saint Thomas. "A few years later, I found his first two albums in used record shops. On first seeing the cover photo of South Atlantic Blues, I experienced the shock of seeing what looked like a picture of me, at about the same age I was then. I was relieved to find his music sounded nothing like mine – my own music at the time would have fit right in at the BBC Radiophonic Workshop."
On listening to the album 69 Love Songs by Merritt's band the Magnetic Fields, Fagan's response was a little different. "It was the oddest experience," he says, "because all of these songs felt like songs, melodically and lyrically, that I would write. I felt 'Jesus, I don't remember writing that …' That was my visceral response – that they just felt like my songs. And the boy sounds like me."
Fagan and Merritt finally met in 2012, at the premiere of Felder's film about her father, AKA Doc Pomus. "I was further relieved to meet him and discover that he now looks absolutely nothing like me," says Merritt. Fagan's recollection is a little fonder: "We did some hugging," he says. "And we've been in much closer touch ever since. I hope to see a lot more of him."
Fagan is now learning to let himself be hopeful once more – to believe that this time around, nearly half a century after its first release, South Atlantic Blues might make him – if not as big as Elvis, at the very least able to release more of his back catalogue. "It's been almost 50 years now and I've learned a great deal," he says. "And I hope to God that this opens a channel for my work. There's an awful lot waiting to come forth."